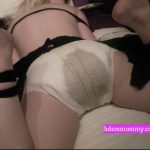 BDSM Mommy Catalina here and I can't wait to make you my little bitch.  You will be forced into a diaper and then you will use it as I tell you.  You will be a good little slut and do as you're told.  And if you have to be told more than once, mommy will have to punish you.  And mommy will enjoy that as well.
Diaper domination is necessary when it comes to controlling you and your libido.  Mommy will make sure that cock gets plenty of attention, if you're deserving.   And mommy decides whether or not you're deserving of gratification.  Mommy owns you and you are mine to do with as I want.  You will beg me to let you cum and I will either deny you or let you squirt, depending on my mood.
And while you are trying not to explode until you have mommy's permission, mommy will be playing with her other little trollop.  Mommy thoroughly enjoys making her fill her diaper.  She has no choice when she's all tied up with no place to go, but in her diaper.  Mommy likes to see that diaper darken and get heavier with each piss and shit.
There's nothing more controlling than messy diaper bondage.  And mommy loves to have ultimate control.  A snap of my fingers and you again fill your diaper.  You can't stop yourself, no matter how hard you try not to make a dirty mess in your diaper, all mommy has to do is snap her fingers and you will have no chance.
Now the fun part… Mommy leads her little diaper bitch over to mommy's messy slut, with a tearing of diapers, mommy makes two openings.  One in the front of your diaper and one in the back of that dirty poopy diaper.  Mommy fishes that hard peepee out of your diaper, feeling it twitch and throb in mommy's hand.
Don't cum yet naughty boy.  Now be a good boy and stick your hard peepee into that shitty diaper, make sure you get it in there deep. And before you will be allowed to cum you have to first make her squirt in her nasty diaper.  I want her diaper full of it all.  Piss, shit, and sticky cummies from both of you.
To be one of mommy's little sex toys and to be controlled in every way possible, call Catalina now!  You won't have to worry about anything, no need to think for yourself, mommy will do that for you.  Like I said, you will be mine to use as I choose; to control completely.  Mommy's little strumpets.
Now stop dragging your feet and pick up that phone right this second and call!  No excuses, no bullshit, and no more delays.  Mommy's tired of waiting for you to do as you have been told.  There shouldn't be any reason why you haven't called yet.  Don't make mommy upset or you will feel my wrath.  And I promise you will enjoy it all.
1-888-430-2010