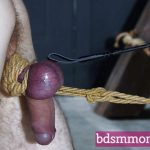 "Do you have everything that you are supposed to, dear?" Mistress Morgan's voice was clear in Sissy Judith's ears, her headset allowing Judith to hear how eager her Mistress was to start. A lingering glance around showed that Judith did have everything that she was supposed to; a small bottle of rubbing alcohol, an eyedropper, a long-handled wooden spoon, a vibrator, and around thirty something metal binder clips that she picked up at Home Depot specifically for this call. "Yes, Mistress. I—" Judith's voice cracked, her throat dry as she couldn't look away from the tools around her. This was going to hurt, that's the whole reason that she had called for a cbt phone sex session, after all, and she knew she would feel so good after it was all said and done. She would scream and cry and holler and tell her Mistress thank-you in between sobs.  That didn't stop her from being nervous, though. "Yes, Mistress, I have everything."
"Very good. Do you recall what your safe word is, Judith?
"Yes, ma'am. It's vanilla."
"Which means that you don't have permission to stop anything until you say that word, correct? You can scream out 'no' until you're hoarse, but the only word that will end anything is 'vanilla'. Yes?"
"Yes, ma'am."
"The pain that you are about to go through is what you want. You want me to make you hurt, till you are still sore and aching days after, a week, two weeks after. You want the pain, and you want the calm that the pain brings, correct?"
"Yes, ma'am."
Mistress Morgan was quiet for a moment after that, and Judith swore she could hear her thinking, deciding what she wanted to be used first. Judith leaned back on her toes, adjusting her legs while she kneeled on the floor. The pink satin panties pulled and stretched against her hips, rubbed against her clittie, and she couldn't hold back an embarrassed shudder. She shouldn't like any of this! Not the pain, not the humiliation… but when Mistress finally gave her instructions, she picked up the wooden spoon without pause. When she was told to hold her clittie in one hand and bring the spoon down on it with other, she did it. Ten times, then ten more, then fifteen on the other side. She was hollering all ready with every smack, didn't hold back a bit, but kept going with Mistress telling her how good she was doing. She set the spoon down and picked up the eye dropper full of rubbing alcohol. She begged to not have to do this (but she never said what would have actually stopped it), but still pushed the end into the tip of her clittie and emptied all the rubbing alcohol inside when she was told to. Judith placed the metal clips all around her clittie and balls, the skin pressed white while she screamed. She used the vibrator on high and didn't even have the breath to holler when she came with equal amounts of pain and pleasure. And when the spoon and clips and vibrator were put down, she was thanking her Mistress just like she knew she would.
Are you ready for your own bdsm phone sex, some dominatrix phone sex? Call for Mistress Morgan anytime.
Mistress Morgan
1-888-430-2010
Click Here to chat with a phone sex mistress!
#cbt #bdsm #cockandballtorture #painkink