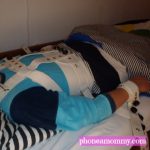 Jimmy vaguely felt himself getting closer to awareness, his mind fuzzy, his body heavy like he had a weighted blanket draped over him. He was so tired, he just wanted to roll over and fall right back to sleep, but when he tried, he was stopped, something wrapped tight around his wrists and ankles keeping him in place. His eyes snapped open to see that… good god, he was in a crib! A huge one, with straps attached to the railings that were what was keeping him in place. He started to freak out, jerking against the cuffs, getting ready to holler for someone, but all that came out was muffled noises… he had some kind of ball gag in his mouth! The panic shot adrenaline through him, burning away the last of the fogginess in his head, and noticing something else odd he looked down his body to see that he had on a pair of diapers. The sight sent him from panic straight into full blown hysteria that made him pull on his restraints even harder, making the railings creak and the crib to smack into the wall over and over.
He was making so much noise that he didn't hear the door opening up behind him, but he definitely noticed the hand that moved to rest on top of the crib railing! He jerked away so hard that if he wasn't tied up he would have slammed into the wall hard enough to hurt, but it just made the crib rock again, the caused the blonde women standing there to laugh at him.
"Hello there, Jimmy! My name is Morgan and I am sure that you have a lot of things running through your mind right now, but don't you worry about a thing. Your Mom asked me to take you in hand, since you've decided that a young man such as yourself doesn't have to be respectful anymore. We both disagree about that, and I'm all for a bit of diaper domination to humiliate and ridicule you, bring that ego of yours down a few pegs. I was able to carefully get you to drink a few things a while ago, certain things that will help you use and fill up that diaper you have on." Morgan laughed a bit and smirked at him. "Now, if you want this to end, all you have to do is tell me just how badly you've been misbehaving and how sorry you are about that. Will you do that?" She reached down to adjust something on the gag and pulled it out just a tiny bit, but that was enough for Jimmy to start cussing at her! She shoved it right back between his teeth and gave him a light smack across one cheek. "Looks like you still have an overabundance of attitude! Give it some time, sweetie, this messy diaper bondage will have you swearing that you will be a good boy, eventually."
Do you think you could last longer than Jimmy? Call for some bdsm mommy phone sex so we can find out!
Aunt Brenda
1-888-430-2010
Click Here to chat with a phone sex mommy!
#bdsmmommy #diaperdomination #messydiaper #forcedabdl