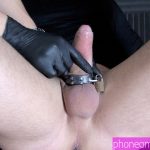 Don't fool yourself and think that you are calling me, Mommy Tawny for a little nonsense fun role-play, you are calling me for bdsm phone sex that specifically deals with cock and ball torture, otherwise known as cbt phone sex. This type of dominatrix phone sex is not for the faint of heart.  It is for those who appreciate the pleasure and the beauty of pain and understand that when you have a dominant who can take you to the edge and not push you over – you need to consider yourself, very lucky.
I love to role play and I love to roll balls and penises under the press of my bare feet and when I want to take it up a notch or two, I will get all glammed up in my boots and press my heels against the contents of your crotch.  You don't necessarily have to do anything wrong for this to happen, it only requires me to be in that special ball crushing mood and if you are here and I know what you have buried between your legs – that simply
means that is it time to take those balls and penis out – tie them up so that cannot move and then press the heel of my boots against them.  Don't cry and wince too much because this is just the warm-up phase of the roleplay, there are more things that await you and I know that you long for that type of treatment.  Your pain is my pleasure and the more that you endure all that I give you – you will prove your love, sincerity and loyalty to me.
Take deeps breaths in and slowly push out and I will enjoy imposing my leather boots on your private parts.  I know just how far to push you and I will halt before it breaks the skin and makes you bleed.  Isn't that so nice of me to think of you in that very special way as to not necessarily draw blood from your privates by using the heel of my boots?  I know that you are thankful for that, so therefore you need to show me your gratitude and thanks by sucking the heel of my boots.
I have walked many miles in my boots and they are quite dirty and it is not shoe cleaner that will make them shine  – the only way that my boots will shine will be for you to take your saliva and squish it all around your mouth while you have the heel of my boot on your tongue.
Lick it off clean so that it could appear that my boots were thoroughly washed by a shoe specialist.  And when you are done you will get on your hands and knees like a little doggy and then you will remain that way until I decide otherwise.  My tired feet will be rested on your back while I sip on some champagne and return a few phone calls so just deal with it as there is nothing that you will be able to do about it.
Mommy Tawny
1-888-430-2010
Click Here to chat with a phone sex mommy!
#ab/dl #abdl #bdsm #femdom #cbt #cockandballtorture #phoneamommy #phonesexroleplay #phonesexmilf #idominatrixphonesex #abdlmommy #hotphonesex #phonesex #bdsmphonesex #eroticroleplay #eroticphonesex #phonesexmistress #fetishphonesex