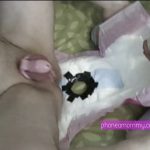 The best diaper is a full squishy diaper.  Diapers are meant to be used and filled.  From peepee, to messy and stinky, to sticky cummies.  A full diaper is a good diaper!
And baby is to keep that diaper on until mommy decides.  Diaper domination is the first step in making sure baby knows to fill that diaper up for mommy, just the way she likes.  Mommy is the only one that is allowed to change that messy, soggy diaper.
For those little ones that are naughty and don't do as mommy says, and tries to take that dirty diaper off, mommy will have to resort to messy diaper bondage.  And believe mommy that sounds just as fun as it is.  Mommy will make you sit in that poopy diaper, even if mommy has to lock you up in it.
And if baby does as told, mommy has special diapers made just for that little bottom.  Once mommy gets you all diapered up and spreads a good amount of vaseline on that tight hole, mommy will show you exactly what that hole in your diaper is for.  As mommy bends you over and mounts you from behind, mommy will fuck that little hole until it is stretched and gaping.
Then mommy will add another regular thick diaper to your already pampered butt.  Now baby has no control over filling those diapers.  That loose hole can't stop baby from pooping, that little peepee will be dripping and squirting for mommy and that diaper will get heavier and heavier.
A bdsm mommy is the perfect mommy for making sure little ones stay diapered.  Even if it means tying, cuffing, caging, or straps.  Mommy will make sure that diaper stays on and gets filled.  And nothing feels as good against baby as a warm squishy mess.
Once mommy decides that diaper is full enough, mommy will squeeze and rub that wet diaper against your hardening peepee.  Until you are squirming and thrusting your diaper against mommy's palm, humping and sliding your peepee through that messy diaper.  Your warm wet diaper caressing you.
Between that and the sensation in your little butthole from mommy's earlier fun, causes baby to explode a big sticky mess in that already full diaper.  Perfect!  Just the way mommy likes it!!
Now mommy can lay you down and get to work on changing that diaper.  Mommy will need lots of wipes for sure.  Depending on how messy baby got, a bath may be needed before a new diaper can be applied.  And then baby can start all over filling that diaper up again for mommy.
And remember mommy likes a full diaper, and mommy always gets what she wants.  If you would like a mommy to take control of you and your diaper, or a mommy that makes you behave and do as you're told, then give Mommy Candy a call when you're ready to play.
Mommy likes it all!!  And mommy will take it all!!
Mommy Candy
1-888-430-2010
Click here to chat with an abdl mommy
#abdlmommy #diaperbondage #bdsmlittle #diaperhumiliation